Honda Philippines, Inc. (HPI), a distributor of Honda Power Products in the Philippines, accomplished its first major sales milestone as it reached the 1 million mark this 2021. For forty-eight (48) years, HPI has been true to its commitment of "Helping People Get Things Done" by providing customers with high quality products for their agriculture, fishery, construction and recreational needs.
The beginnings of Honda Power Products in the Philippines can be traced back to 1973 with a minimal lineup and limited dealer network. HPI's breakthrough was during its 20th Anniversary in 1993 when it launched the GX340 Mega Marine engine intended for local fishermen. With the positive acceptance of customers, Honda became a household name in the fishery sector. Shortly after, HPI introduced GX Mega Agri engine to address demand for agriculture sustainability.
Since then, HPI gradually but firmly solidified its name as a reliable power products brand in the Philippine market. With the strong patronage from customers as they experienced "the joy of buying" Honda Power products, and the support from valued dealers who have been its partners in satisfying customers through "the joy of selling", Honda has continued "the joy of creating" and expanded its power products lineup in the Philippines which now includes a variety of general purpose engines, brush cutters, generators, water pumps, compact tillers, backpack sprayers, lawn mowers and outboard engines. From an initial annual sales of 1,000 units in 1973, HPI ultimately reached an accumulated 1 million sales units this 2021 with a notable increase in annual sales in the last 15 years.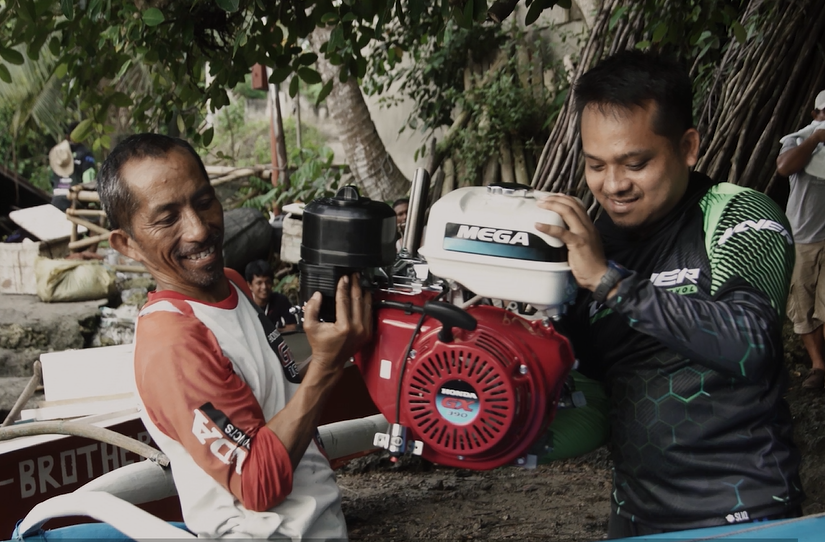 1 Million Happy  Customers
Power Products continues to put satisfied smiles and worry-free confidence to their
customers ranging from household use, construction to everyday livelihood.
Pictures shown: Proud owner of new GX390 Mega Marine engine for fishery application.
As Susumu Mitsuishi, Honda Philippines, Inc. President said, "We are pleased and proud to reach 1 million sales milestone despite the tough economic situation brought about by CoViD-19 pandemic in the country. As we continue to realize our vision of expanding the joy of mobility and comfort for every Filipino family, we will continue to strive harder to provide and satisfy our valued customers with our reliable and highest-quality products and services", HPI shall remain to be a company that every Filipino wants to exist.
Year

Highlights

1973
A joint venture agreement between Honda Motor Co., Ltd. Of Japan and Mariwasa-Distributors, Inc. was signed in May, thereby establishing Mariwasa-Honda Inc.

Honda Power Products was first introduced to the Philippine market.

1983
The company's name was changed from Mariwasa-Honda to Honda Philippines, Inc. (HPI) in December.
1988
Best Brand carabao tiller was launched.
1989
Long tail shaft assembly for bancas was launched.
1992
HPI introduced assembled generator models
HPG2200/3300/5500
1993
HPI celebrated its 20th Anniversary.
The new GX340 marine engine was launched.
1997
The GX Mega Agri engine was launched during the Power Products Dealers Convention.
2002
Groundbreaking opening of Cebu and Davao depots was held.
The UMK431, a micro 4-cycle engine brush cutter, was launched.
2006
HPI introduced new EP generators to replace EC generators.
2012
The UMK435T 35cc brush cutter was launched to replace UMK431 and provide a more reliable brush cutter.
2013
GP engine for light use market was launched to capture mid-price market segment.
2014
WL series high-efficient water pumps were launched.
2015
WJR backpack sprayers and FJ500 tiller were introduced.
2016
GX Cyclone engines for construction application were launched as the country's demand for infrastructures heightens.
2017
UMK425T 25cc brush cutter was launched for entry-level users (household/personal use).
2019
UMK450T 50cc brush cutter for professional use was launched.
GP200 QDB1 for shoreline/municipal fishing was launched.
2020
The new and improved GX390 Mega-Marine (Flagship Model) with two (2) variants was launched: GX390 Mega LBP Hi-torque model and GX390 Mega QBP Hi-speed model.

The new GX390 Mega model is the most powerful GX390 in the world produced by Honda based on the power rating.

2021
HPI achieves 1 million sales units.