Honda Philippines Inc. added another significant milestone under its name with the introduction of their latest line of revolutionary products, the GX Cyclone Engines: the GX 160T2 QCT and GX 390T2 QCT.
The official launch, held at the Century Mall Events Place in Makati City, gathered all leaders from the construction industry, academe, and media to formally introduce the new addition to the Honda Power Products roster, the GX Cyclone Engines.
The GX Cyclone Engines are air-cooled 4-stroke OHV engines equipped with cyclone cleaners capable to do three-stage filtering: (1) by pre-cleaning large debris and sand; (2) next by filtering dust at the foam element, (3) and then removing the fine particles through the paper filter element – all of these are done to extend the engine maintenance interval.
The guests were welcomed by Makati City Vice Mayor Monique Lagdameo and Mr. Daiki Mihara, President of Honda Philippines Inc., who talked about the journey of Honda Philippines to what has now become their history of revolution in the construction industry.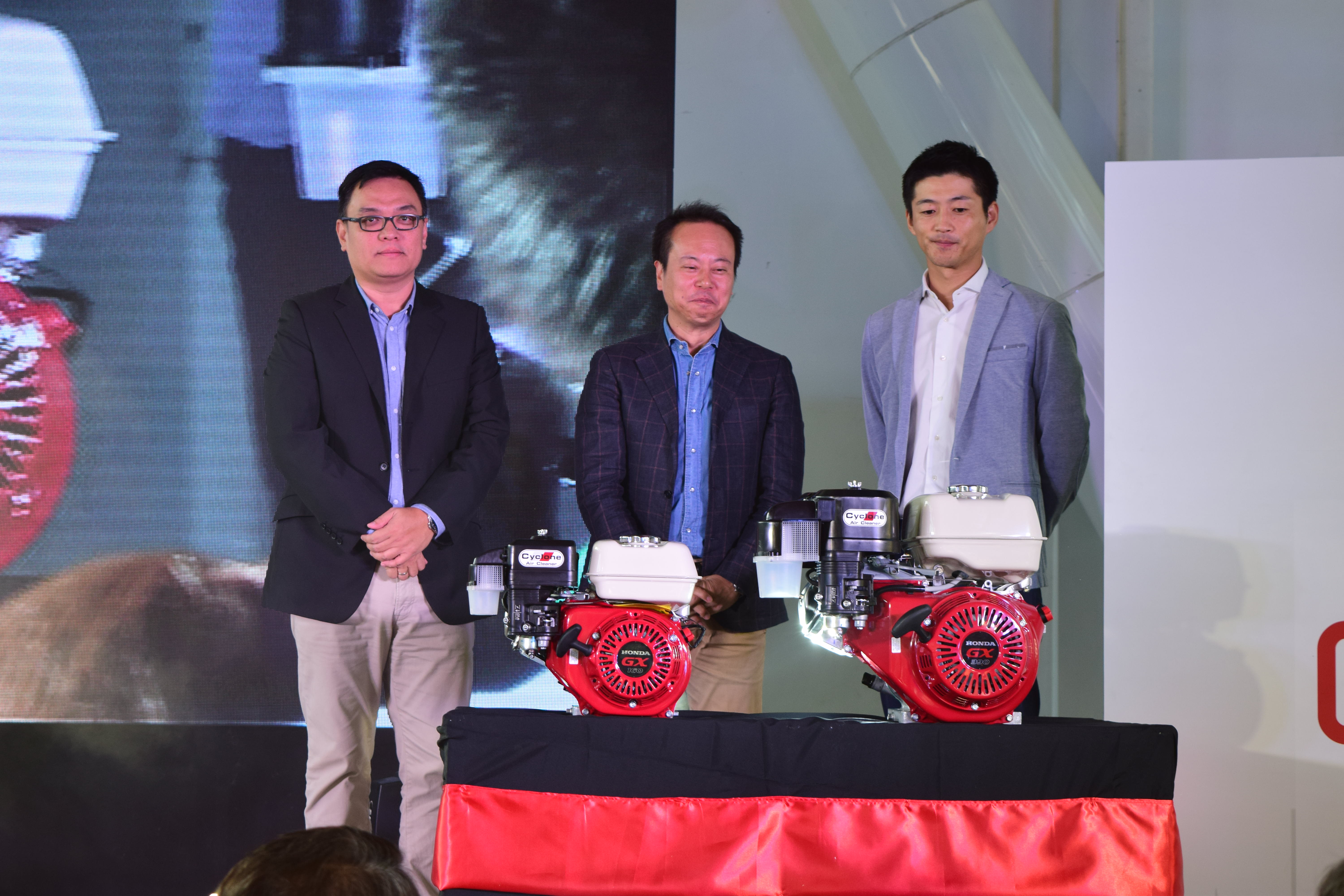 Mr. Kojiro Takasu, Bloc Manager of Asian Honda Motor Co., Ltd., Power Products Business Division & Asia-Oceana Planning and Marketing, discussed Honda's 60 years of experience and its readiness to take advantage of the growing trend when it comes to the state of construction in the ASEAN region, with the Philippines as an emerging market in the construction scene, and the recent announcement of FHI (Fuji Heavy Industries Ltd.) to withdraw from the industrial products business and concentrate their resources in the automotive industry, ending its Subaru Industrial Power Product line distribution last September 2017.
Mr. Julius L. Francisco, General Manager of Woodfields International, LLC, and Vice President for Business Development and Marketing of Woodfields Consultants Inc., discussed the trends of the construction industry in the Philippines; while Mr. Go Tanaka, Chief Engineer of Honda R&D Southeast Asia, discussed the benefits, usage and features of the GX Cyclone Engine.
There was also a product demonstration via live feed video of the new GX Cyclone Engines with the Honda Philippines Team.
Honda GX Cyclone Engines' new design offers even better fuel economy than before. It also ensures to improve engine performance, with its built-in air cleaner, and filters the dirt and debris from outside that passes through the engine. With this kind of engine, construction equipment will perform better and last longer.
The Honda Power Products team also gave away an EG1000 for the raffle, facilitated by Mr. Raymund Cristobal, Honda Power Products Section Manager, before Mr. Masaki Hagiwara, Assistant Vice President and Power Products Department Manager, gave the closing remarks and the ceremonial toast with the rest of the Honda executives.